Lemon Drop Soda Shop Cookies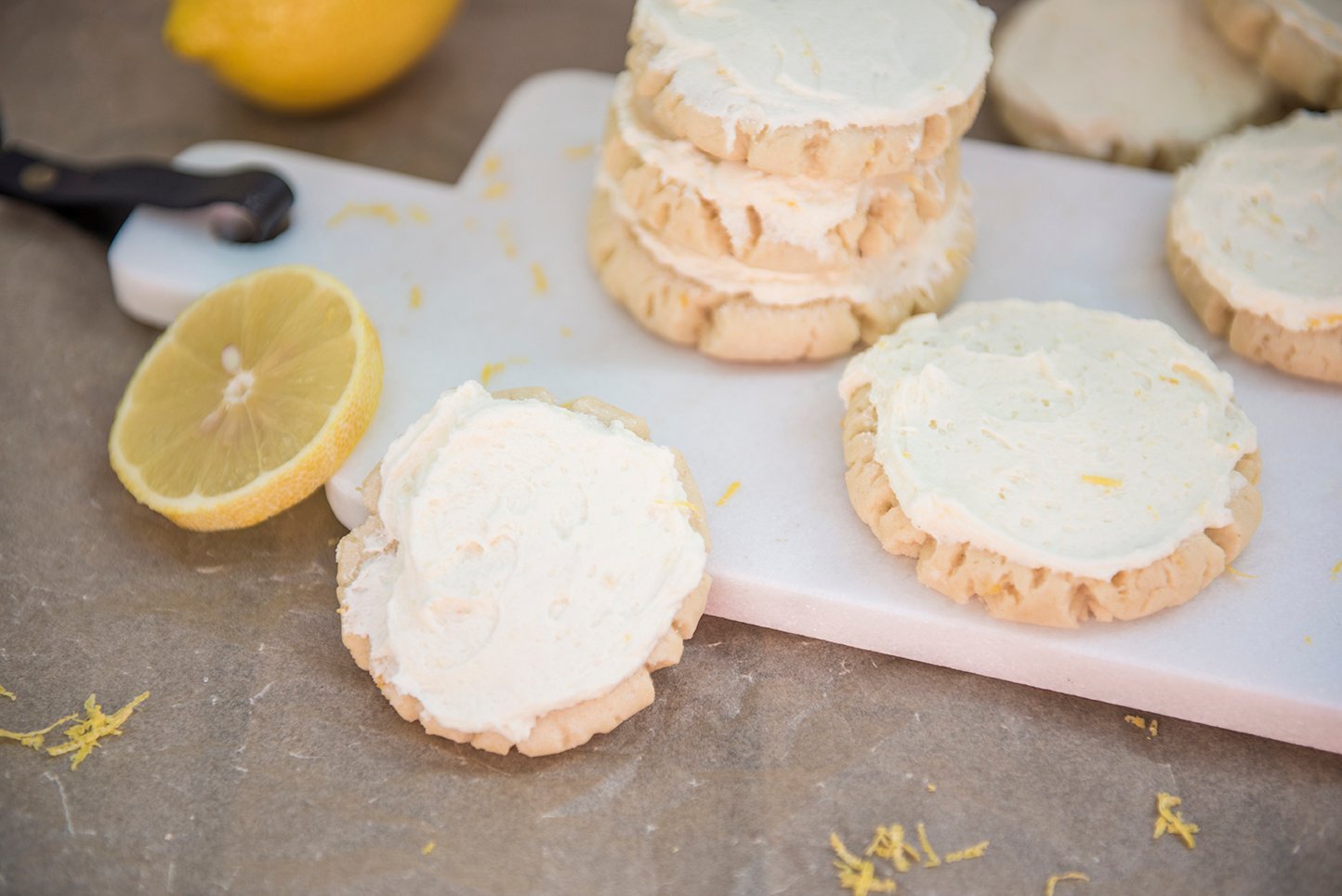 Lemon drop soda shop cookies are the a really refreshing version of a sugar cookie with the perfect balance of sweet and tart. Half of the time when I ask my husband what kind of dessert he wants he says something lemon-y. So I tend to try to build my lemon dessert recipe stash. This cookie is based on my original sugar cookie recipe. It's one of my favorite go-to desserts and this lemon twist on it is delicious and refreshing.
Print
Lemon Drop Soda Shop Cookies
Super refreshing lemon drop sugar cookies with a perfect balance of tart and sweet.
Prep Time:

30 minutes

Cook Time:

8 minutes

Total Time:

38 minutes

Yield: about

2

dozen

1

x
Cookies–
1 1/4 cups sugar
2 1/2 tablespoons lemon zest (3–4 lemons)
1 cup butter, softened to room temp
¾ cup vegetable or canola oil
¾ cup (3 oz) powdered sugar
½ teaspoon baking soda
½ teaspoon salt
½ teaspoon cream of tartar
¼ cup fresh lemon juice
2 large eggs
6 cups flour (30 oz)
½ cup sugar, for pressing cookies
Frosting-
1 cup butter, softened to room temp
1 Tablespoon sour cream
1 Tablespoon lemon zest (about 1 lemon)
5 cups (20 oz) powdered sugar, sifted
¼ cup fresh lemon juice
Instructions
Cookies-
Preheat the oven to 350 F and line 2 rimmed baking sheets with parchment paper.
In a small bowl, combine the sugar and lemon zest. Stir and press with spoon or pinch with your fingers till the sugar smells very fragrant, about 1 minute.
In a large bowl using a hand mixer or in a stand mixer fitted with a paddle attachment, combine the butter, oil, sugar/lemon mixture, and powdered sugar. Till the butter is light and fluffy. Sprinkle the baking soda, salt, and cream of tartar over the top and mix till creamy.
Add the lemon juice and eggs till well combined.
Add the flour in and stir, scraping the sides as needed till just combined. Your dough should be soft, but not so soft that it's sticky.
Form the dough into 2 tablespoons sized balls and place about 3 inches apart from each other on the baking sheet.
Put the ½ cup sugar in a small bowl. With a flat-bottomed glass or cup, press the bottom into the bowl of cookie dough to get the bottom to be a bit greasy (this way it will pick up the sugar from the bowl, you only need to do this the first time). Dip the glass into the sugar and press a cookie ball till it's about 1/2 inch thick. If you want them a bit thinner then press a bit more and bake a bit less. Dip the glass in between pressing each cookie.
Place in oven and bake for about 8-10 minutes. You want to slightly under-bake these cookies or they will be dry instead of soft and moist. Pull out of the oven right before they turn golden around the edges. Let the cookies cool for about 3-4 minutes on the baking sheet before moving to a cooling rack.
Frosting-
In the bowl of a stand mixer fitted with a whisk attachment or in a large bowl using a hand mixer, combine the butter, sour cream, and lemon zest till creamy and light. Add the sifted powdered sugar and lemon juice and mix/whip for at least 3-4 minutes. If your frosting is too soft you can either refrigerate it for 10-15 minutes before frosting your cooled cookies, or add a bit more powdered sugar.
Frost the cookies. I like eating these cookies refrigerated, but they taste good at room temperature too.
Notes
If you aren't measuring with weight, make sure to fluff the flour before measuring it.
Store in an airtight container in the fridge.
Keywords: Lemon Drop Soda Shop Cookies