Peanut Butter Oatmeal Cookie Cream Pies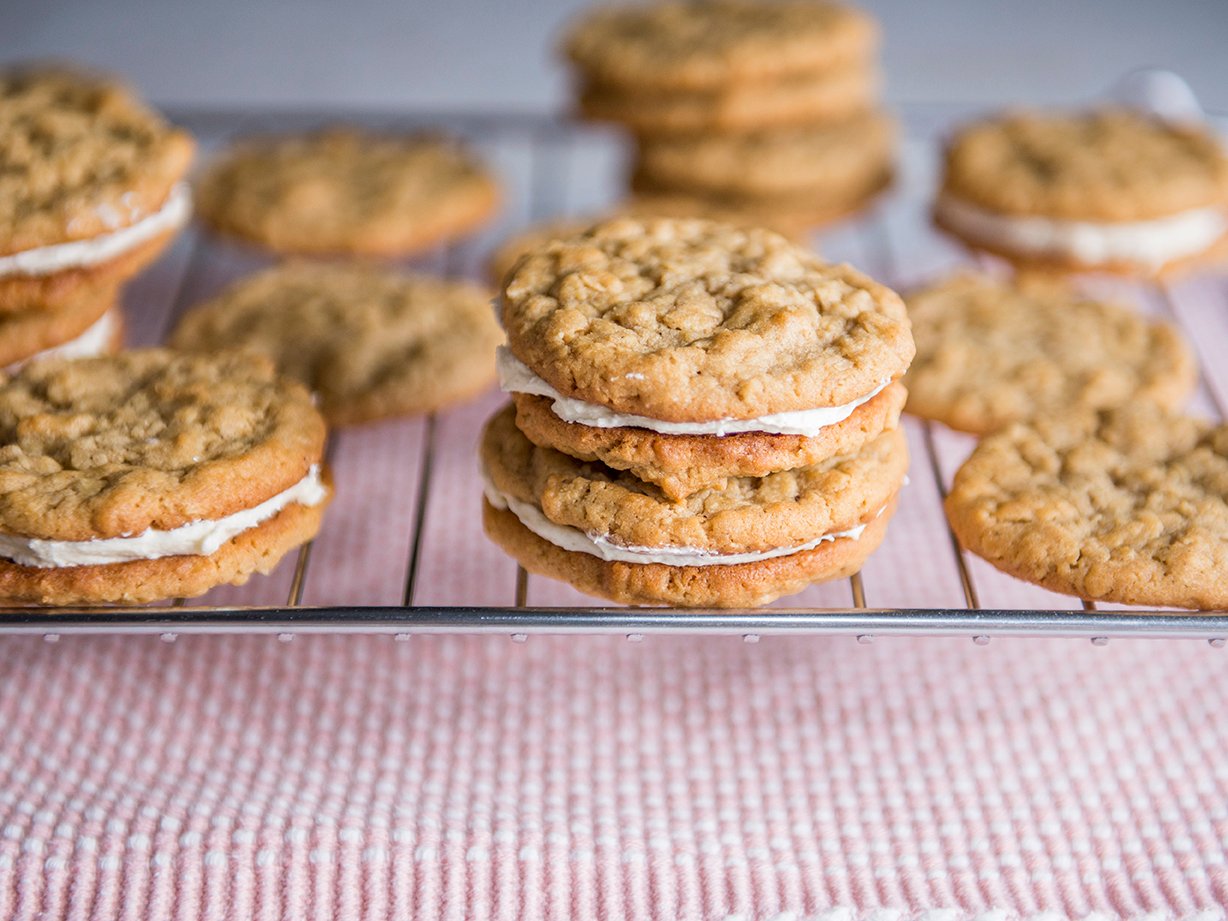 These cookies are super addicting. I made these for a lunch at my church for the seniors in the ward. Peanut butter isn't really a popular thing here and as far as I can tell, homemade cookies aren't either so it was a special and unique treat for them. The guy translating the name of this cookie for the people who don't speak English had one heck of time translating it!
Print
Peanut Butter Oatmeal Cookie Cream Pies
Delicious and soft peanut butter cookies sandwiched with a fluffy and delicious cream filling!
Prep Time:

30 minutes

Cook Time:

10 minutes per baking sheet

Total Time:

40 minutes

Yield: about

2

dozen sandwiches

1

x
Cookies-
1 cup butter, room temp
1 cup creamy peanut butter (not all natural)
1 ¼ cup sugar
¾ cup dark brown sugar
1 tablespoon vanilla extract
2 eggs
2 ½ cups old fashioned oats
1 ½ cups flour
1 teaspoon baking soda
½ teaspoon salt
Cream Filling-
7 oz jar marshmallow fluff
14 tablespoons butter, softened
1 ¾ cup powdered sugar
3 tablespoons heavy cream
1 teaspoon vanilla extract
Instructions
Cookies-
Preheat oven to 350 F.
In the bowl of a stand mixer fitted with a cookie paddle cream together the butter, peanut butter, sugar, and brown sugar.
Add in the eggs and vanilla extract and mix to combine.
Add in the oats, flour, baking soda, and salt all at the same time and mix just until combined.
With your hands take about 2-3 tablespoons of dough and roll into a ball and place on a cookie sheet covered in parchment paper a few inches apart from each other.
Bake for 9-11 minutes until just the edges have browned but the middle still looks soft.
Let the cookies cool on the cookie sheet for 5 minutes before moving to a wire cooling rack to finish cooling completely.
Cream Filling-
Beat together the marshmallow fluff and butter till combined. Add in the powdered sugar, heavy cream and vanilla and beat till combined and fluffy.
Assembly-
Frost the bottom of one cookie and place the bottom of a second cookie on top of the frosting, creating a cookie sandwich.
Notes
The dough will be pretty wet, but don't worry. If the dough is too dry it won't be a flat cookie in the end which will be harder to make into a sandwich in the end.
Don't frost the cookies until they are completely cooled or the frosting will slide off.