Honey Mustard Vinaigrette Marinade & Salad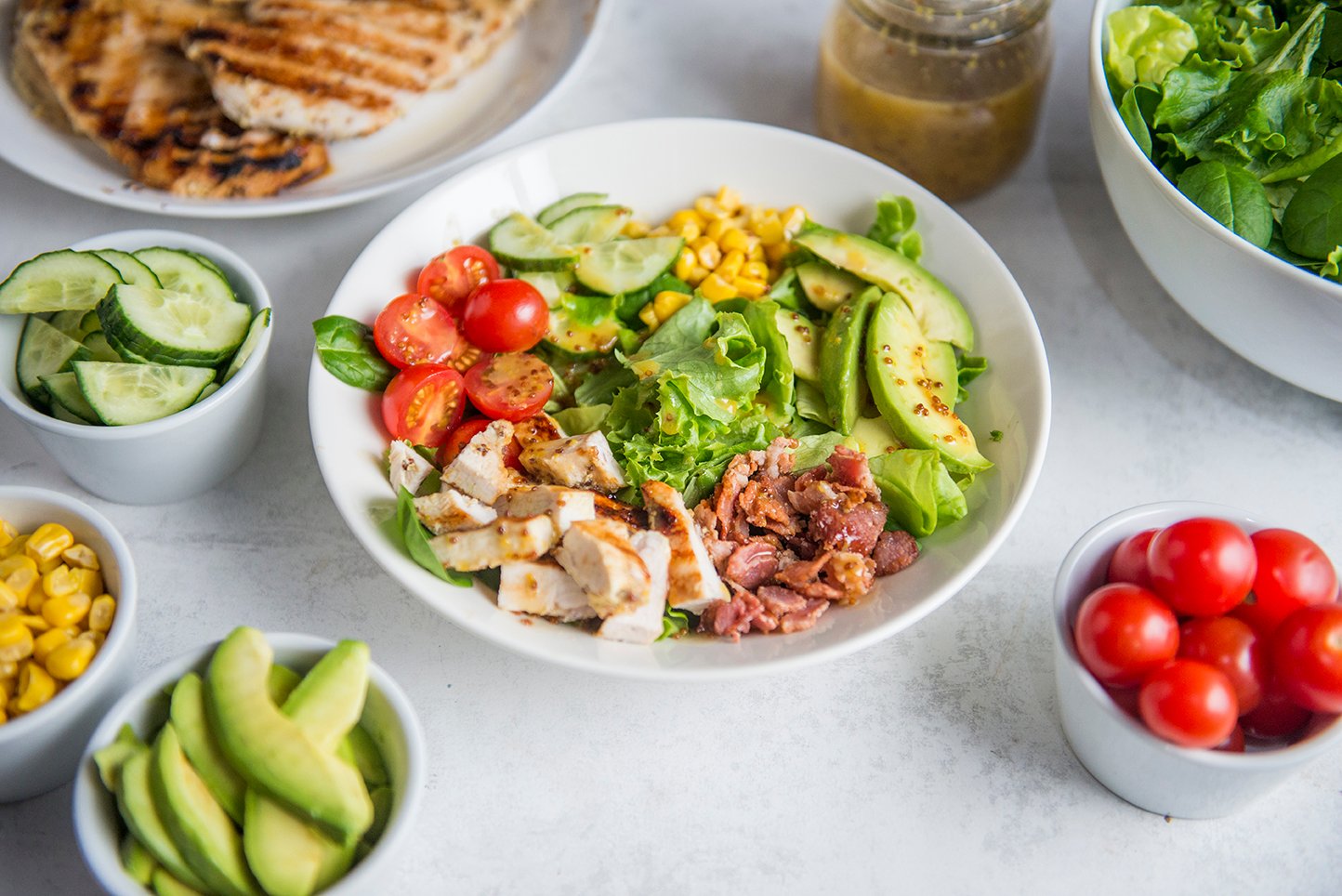 Raise your hand if you love a good salad with a ton of veggie toppings?! I love a good salad. Tons of different flavors and textures in the same bite. I love that the dressing and marinade for the chicken and salad are the same thing making this even easier. Homemade salad dressings are honestly very easy to make. I haven't bought a store-bought salad dressing in years because they just don't live up to the taste of a simple homemade one. They are also way better for you too.
Print
Honey Mustard Vinaigrette Marinade & Salad
The most delicious and tangy honey mustard dressing and marinade make a salad with wonderful taste and texture!
Prep Time:

10 minutes active, plus marinade time

Cook Time:

20 minutes

Total Time:

30 minutes

Yield:

Enough dressing for about 6-7 salads
Marinade/Dressing-
½ cup honey
5 tablespoons whole grain mustard
3 tablespoons Dijon mustard
3 tablespoons olive oil
2 ½ tablespoons apple cider vinegar
Pinch of garlic powder
4–6 Chicken breasts, depending on how big and how many people you want to feed.
For Salad-
Mixed greens
Corn
Chopped cucumbers
Cherry tomatoes, sliced in half
Sunflower seeds
Sliced avocado
Crumbled bacon
Instructions
Marinade/Dressing-
Whisk together all ingredients till well incorporated. Add ½ a cup of dressing to a Ziploc bag and put 4-6 chicken breasts in to marinate at least 30 minutes up to as long as you'd like. I try to let it marinade at least 2 hours but it still tastes great if you don't have that much time. Keep the rest of the dressing in the fridge, covered, till ready to use.
I prefer to grill this chicken. If you bake it, make sure to line a baking sheet with foil and lightly spray so it doesn't stick. Bake at 350 for about 20-25 minutes, depending on thickness of chicken breasts.
Assembly-
Put a handful of greens in a bowl and top with chicken and other desired toppings. My favorites for this salad are corn, cucumbers, tomatoes, avocado, bacon, and sunflower seeds. Spoon dressing over top of salad and enjoy.
Notes
I think I enjoy this salad just as much as leftovers as I do freshly made!
Keywords: Honey Mustard Vinaigrette