Honey Lime Coconut Curry Chicken with Coconut Rice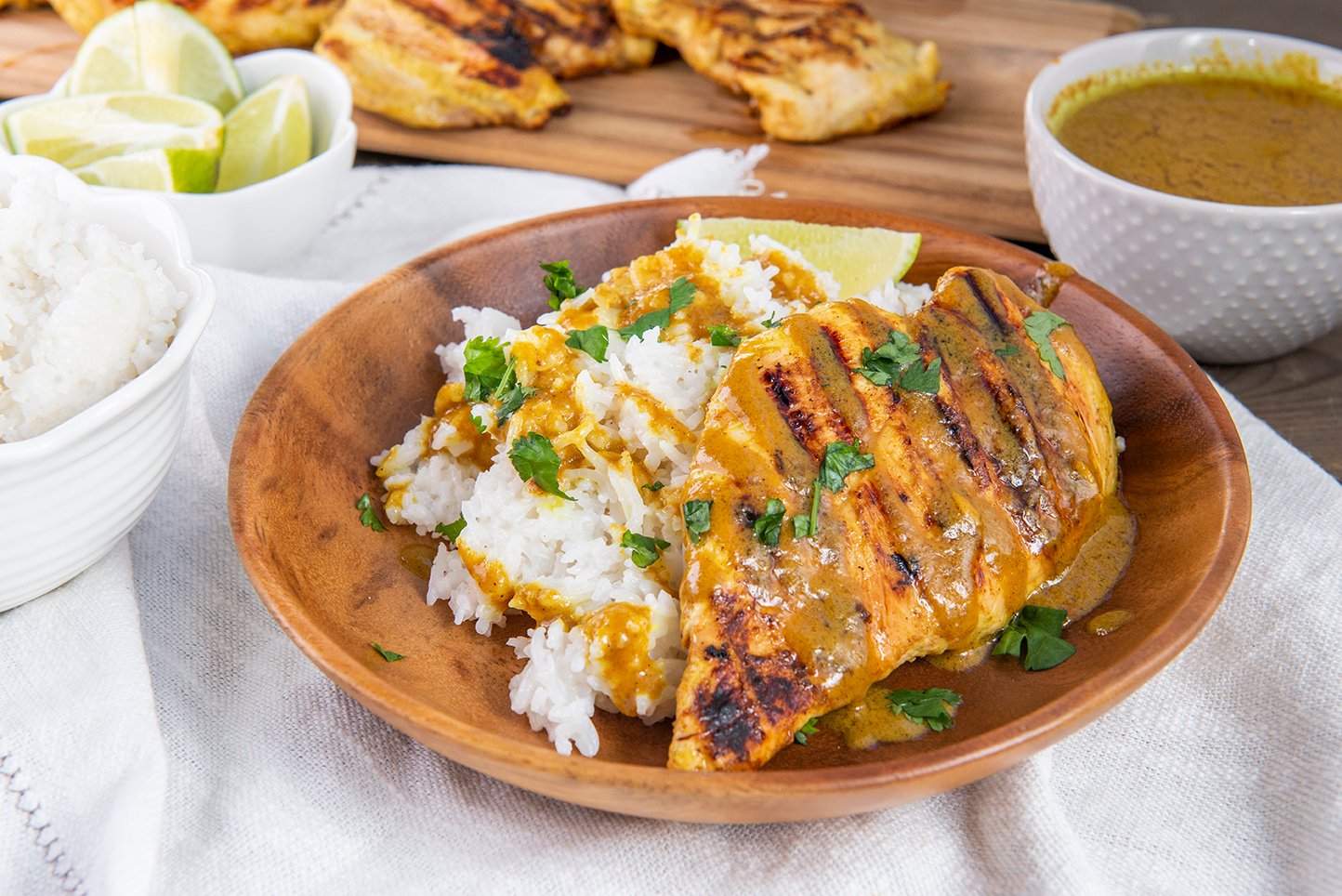 I love this meal. It's filling and has some of the most well balanced flavors there could be. Coconut and lime and curry and honey were meant for each other. This is a recipe I've been developing for over a year with each time making it adding good notes to my recipe to make it perfect. You're going to drool while smelling it all cook in your home.
If you're looking for a coconut dessert to go with this dish, try these delicious black bottom coconut cream pie bars!
Print
Honey Lime Coconut Curry Chicken with Coconut Rice
Juicy grilled chicken with the most delicious flavors of honey, lime, and curry served over creamy coconut milk rice.
Prep Time:

15 minutes (plus at least 1 hour of inactive marinading time)

Cook Time:

25 minutes

Total Time:

40 minutes (plus inactive marinading time)

Yield: Serves

6

1

x
Chicken-
1/4 cup oil
Zest and juice of 2 limes
2 teaspoons ground cumin
1/4 cup low sodium soy sauce
2 teaspoons salt
1/4 cup honey
4 teaspoons curry powder
1 cup canned coconut milk (light or normal)
2.5–3 pounds chicken breasts
1/2 cup chopped fresh cilantro
Rice-
2 cups long grain rice (rinsed really well)
1 teaspoon salt
2 cups plus 2 tablespoons coconut milk (1 can coconut milk plus the leftover milk from the other can you used from the marinade.)
Instructions
Chicken-
In a large bowl or in a Ziploc bag whisk together the oil, zest and lime juice, cumin, soy sauce, salt, honey, curry powder, and coconut milk. Add the chicken breasts and marinade at least an hour or as long as a day.
Remove the chicken from the marinade and pour the marinade into a small sauce pan. Put the saucepan on the stove over medium high heat till it reaches a boil. Reduce heat to medium and simmer for 10 minutes.
Grill (or bake at 375) the chicken till it's cooked through.
Rice-
Rinse the rice very well, till the water runs clear. In a saucepan combine the rice, salt, and coconut milk. Heat the rice over medium heat till it starts to boil. Reduce heat to low, cover with a lid and cook till all the liquid is gone. Remove from heat, keep lid on, and steam for about 5-10 minutes. Fluff with a fork and serve with the chicken.
Sprinkle with chopped cilantro and drizzle with cooked marinade before serving.
Notes
I try to put the chicken in the marinade in the morning and then make it for dinner about 6 hours later. But at least 1 hour is good for the flavor.
There is no worry of food poisoning by using the marinade as a sauce because you're cooking it. It only has to reach 165 F for the potential danger to be gone, and boiling it for 10 minutes is well beyond the worry.
You only use 1 cup of coconut milk for the marinade. Reserve the rest of that can for the coconut rice in addition to 1 more whole can of coconut milk.
Keywords: Curry, Honey lime, curry chicken, coconut, coconut milk, coconut milk rice, coconut curry, grilled chicken, chicken and rice