Laskiaispulla- Finnish Shrove Buns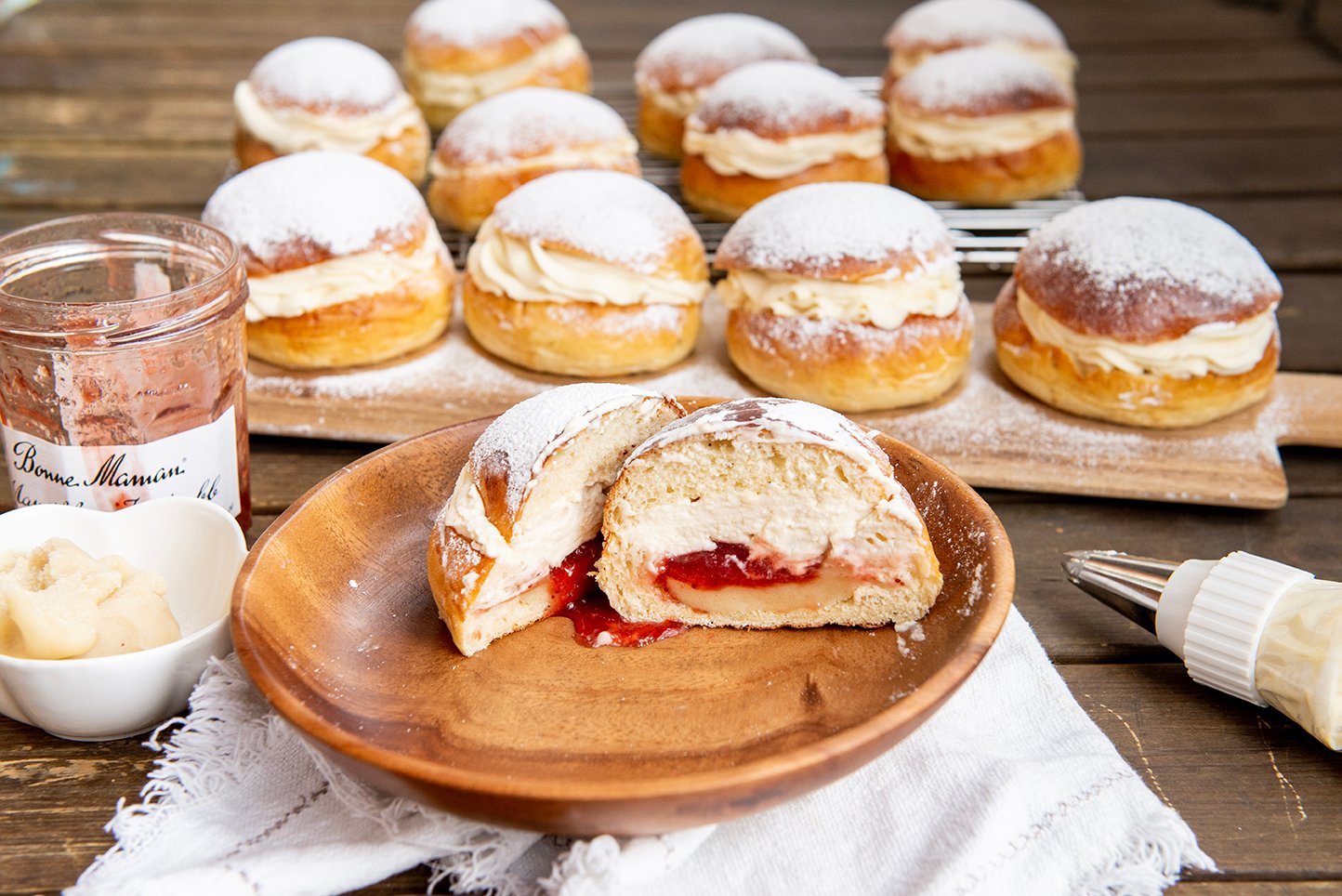 I was born in Louisiana and a lot of my family still lives there. Because of this I have a love of Mardi Gras food, particularly King Cake. When we moved to Finland, at the beginning of the year these cute little buns started showing up in grocery stores and bakeries. They're called laskiaispulla or Shrove Buns. Shrove Tuesday is the same this as Mardi is the same thing as Fat Tuesday. So these adorable buns are the indulgent dessert t
hat is eaten here before Lent. They're my very very favorite Finnish treat and only sold at the beginning of the year. I learned how to make them a few years ago and decided because we are likely not going to be here next January I should blog the recipe if for no other reason, so I can make them every year. Your life will be changed once you try these.
Note- cardamom is very very commonly used here in dessert/pastries. It's kind of like the Finnish equivalent of cinnamon in America. I think you should try to find cardamom to make these but if you absolutely won't make them because you'd have to find an ingredient maybe not sold at your normal grocery store you could probably get away with switching the cardamom and replacing it with cinnamon. BUT TRY CARDAMOM if you can. please, please let me know if you make these! It would make my day knowing I shared a piece of this place I love with you.
(I tried to take a few pictures throughout the process in case that's helpful. See below the recipe.
Print
Laskiaispulla- Finnish Shrove Buns
Delicious, indulgent cardamom buns filled with jam and almond paste topped with plenty of whipped cream. A truly Finnish Fat/Shrove Tuesday treat.
Prep Time:

45 minutes active, 2 hours inactive

Cook Time:

10 minutes

Total Time:

2 hours 45 minutes

Yield:

16

buns

1

x
1 cup warm milk
2 tablespoons yeast
1 egg + 1 egg yolk, room temperature
1/2 cup sugar (100g)
1 teaspoon cardamom
1/2 teaspoon salt
2 cups all-purpose flour (250g)
2 cups cake flour (250g)
7 tablespoons butter (100g)
Egg Wash-
1 egg, beaten
Cream-
3 cups heavy cream
1/2 cup powdered sugar
1/2 teaspoon vanilla extract
Filling-
Almond paste (about 1 cup)
Jam (about 1 cup)
Instructions
In a small bowl, combine the warm milk and the yeast. Let sit for about 5 minutes.
In the bowl of a stand mixer fitted with the whisk attachment whip the egg, egg yolk, and sugar together till pale and yellow.
Add the salt, flour, and cake flour and replace the whisk attachment with a dough hook. Slowly knead the dough till it's combined nicely, about 2 minutes or so.
In a small bowl whip the butter till light and fluffy. Add the whipped butter to the stand mixer and continue kneading. You will have to scrape the sides down and help the dough quite a bit in the beginning. Knead on a low speed till you can pull a piece of dough upwards without it breaking. It will be at least 15 minutes-20 minutes of kneading in the stand mixer. The dough will feel sticky during this process and you may be tempted to add more flour, but you likely don't need to. If at the 15 minute mark of kneading it's still sticking a lot to the sides of the bowl then you can add a bit of flour at a time. It will get less sticky as you knead longer. Because this is an enriched bread dough (meaning it has eggs, butter, and milk in it), it takes quite a bit more kneading than doughs with just water and flour.
Once your dough is kneaded, cover the bowl with plastic wrap and put in a warm location till it doubles, about 1 hour.
Line 3 baking sheets with parchment paper and set aside and Pre heat oven to 425 F.
Turn the dough on the counter, do not flour the counter. Knock the air out of the dough and divide into 16 even pieces. Roll the dough into balls, much like you'd roll a ball of dough to make dinner rolls. Put the balls on the baking sheets and let them rise in a warm place for about 45-60 minutes.
Whisk an egg together with a pastry brush, lightly brush the top of the rolls right before placing in the oven.
Bake for 10-14 minutes till the tops are dark golden brown (watch them every few minutes to make sure you don't over-bake). Remove from oven and let cool completely before continuing.
While the buns are cooling, make the whipped cream using a hand mixer by mixing the cream, powdered sugar and vanilla extract till stiff peaks.
Once the buns are cooled, cut about 1/3 of the top off and set aside. Using your fingers, rip out some of the bun making a well about 2 tablespoons in size. Continue on all the buns. Fill each bun with about 1 tablespoon almond paste and 1 tablespoon of jam.
Preferable pipe the whipped cream on top of the bottom half of the bun and filling. Replace the top 1/3 of the bun on top of the whipped cream. Dust the tops with powdered sugar, if desired.
Eat immediately or refrigerate for up to about 3 days.
Keywords: Finland, Finnish food, Shrove buns, Laskiaispulla, fat tuesday, cardamom, dessert, pastry