World's Best Chocolate Cupcakes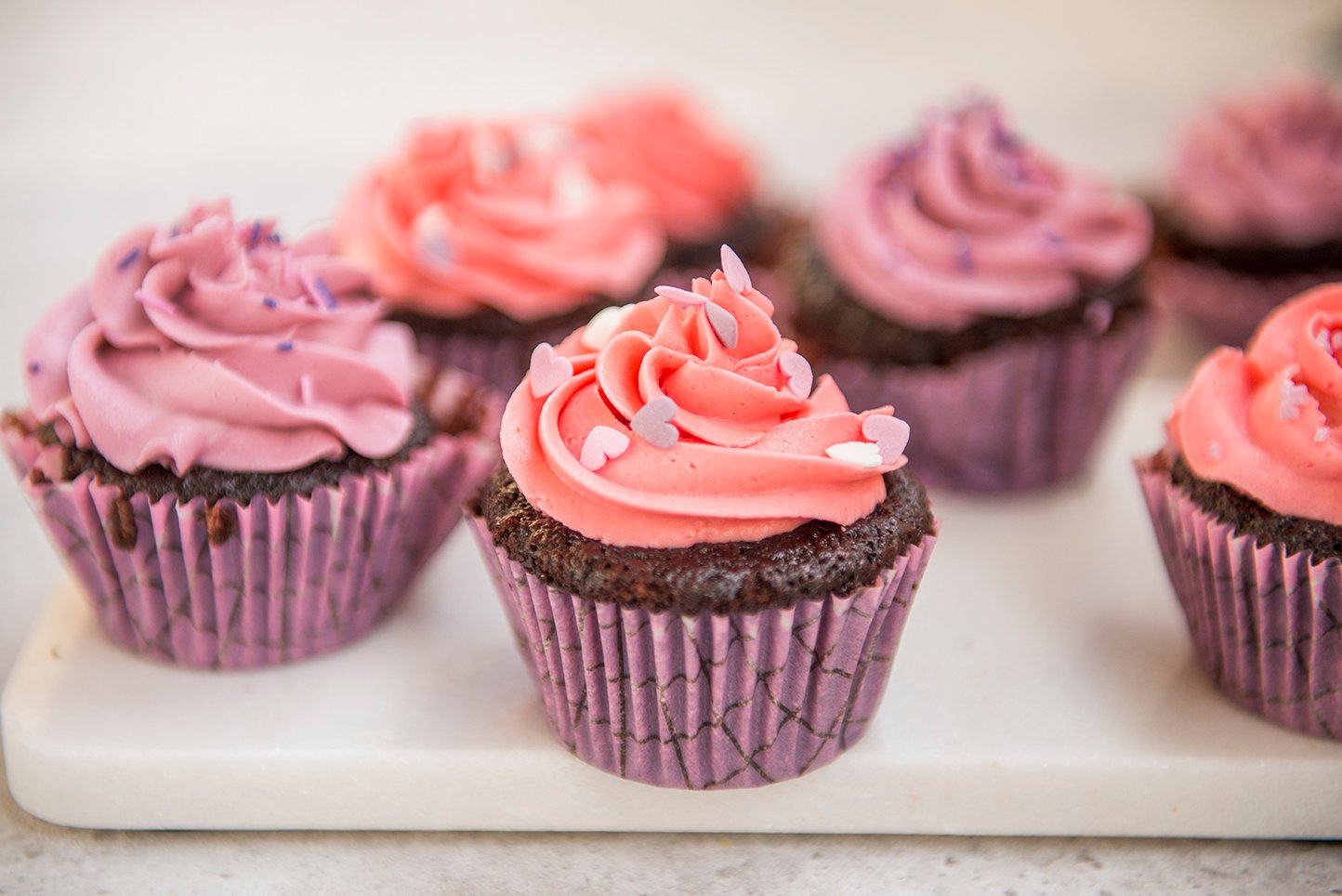 Chocolate cake is my favorite dessert and this is the world's best chocolate cake. I've hesitated in posting this recipe before because I keep forgetting to make these into a normal 9×13 cake so I can time how long it should stay in the oven. I almost always make cupcakes over cake because my daughter loves them. So, this batter can definitely be made into 2 8-inch round cake pans or a 9×13 baking dish too, but you may have to figure out your own time for baking. If you like peanut butter, combine these cupcakes with this frosting!
Print
World's Best Chocolate Cupcakes
Perfectly moist and tender cupcakes with a deep, rich chocolate taste.
Prep Time:

15 minutes

Cook Time:

15 minutes

Total Time:

30 minutes

Yield:

2

dozen cupcakes

1

x
2 cups flour
2 cups sugar
¾ cup sifted Dutch process (Hershey's dark is what I use) cocoa powder
2 teaspoons baking soda
1 teaspoon baking powder
1 teaspoon salt
½ cup vegetable oil
1 cup buttermilk, room temperature
2 large eggs, room temperature
1 tablespoon vanilla extract
1 cup hot water
Instructions
Preheat oven to 350 F. Line 2 cupcake trays with liners.
In the bowl of a stand mixer fitted with a paddle attachment, combine the flour, sugar, cocoa powder, baking soda, baking powder and salt.
In a small mixing bowl or liquid measuring cup combine the oil, buttermilk, eggs and vanilla extract till combined. Slowly drizzle the hot water in while continually stirring to not cook the eggs. Once all the water is incorporated, slowly pour the liquid mixture into the dry ingredients while the stand mixer is on low. Turn to medium speed and mix, scraping sides as needed, for 2-3 minutes.
Fill cupcake liners with 2/3-3/4 full of batter.
Bake for about 15 minutes, till a toothpick comes out with a few moist crumbs.
Let cool in the cupcake pan for 5 minutes and then remove to a wire rack to finish cooling. This helps prevent them from over-baking while cooling.
Notes
Batter will be pretty thin.
I am such a proponent for using real buttermilk. Buttermilk substitutes work chemically, but the taste just isn't the same in the final product.
If you put a toothpick in the cake while it's baking and no crumbs stick to the toothpick, then the cake is over-baked and will be dry, so make sure to pull the cake out when some crumbs still stick to the tooth pick.
One of my favorite tips to keeping cake moist- When the cake is almost all the way cool, so slightly warm still, put the cake in a sealable container and place the lid so it's slightly ajar. Then when it's totally cooled, seal the lid. It traps in a bit of moisture that would escape otherwise.
Keywords: World's Best Chocolate Cupcakes