100% From Scratch Green Bean Casserole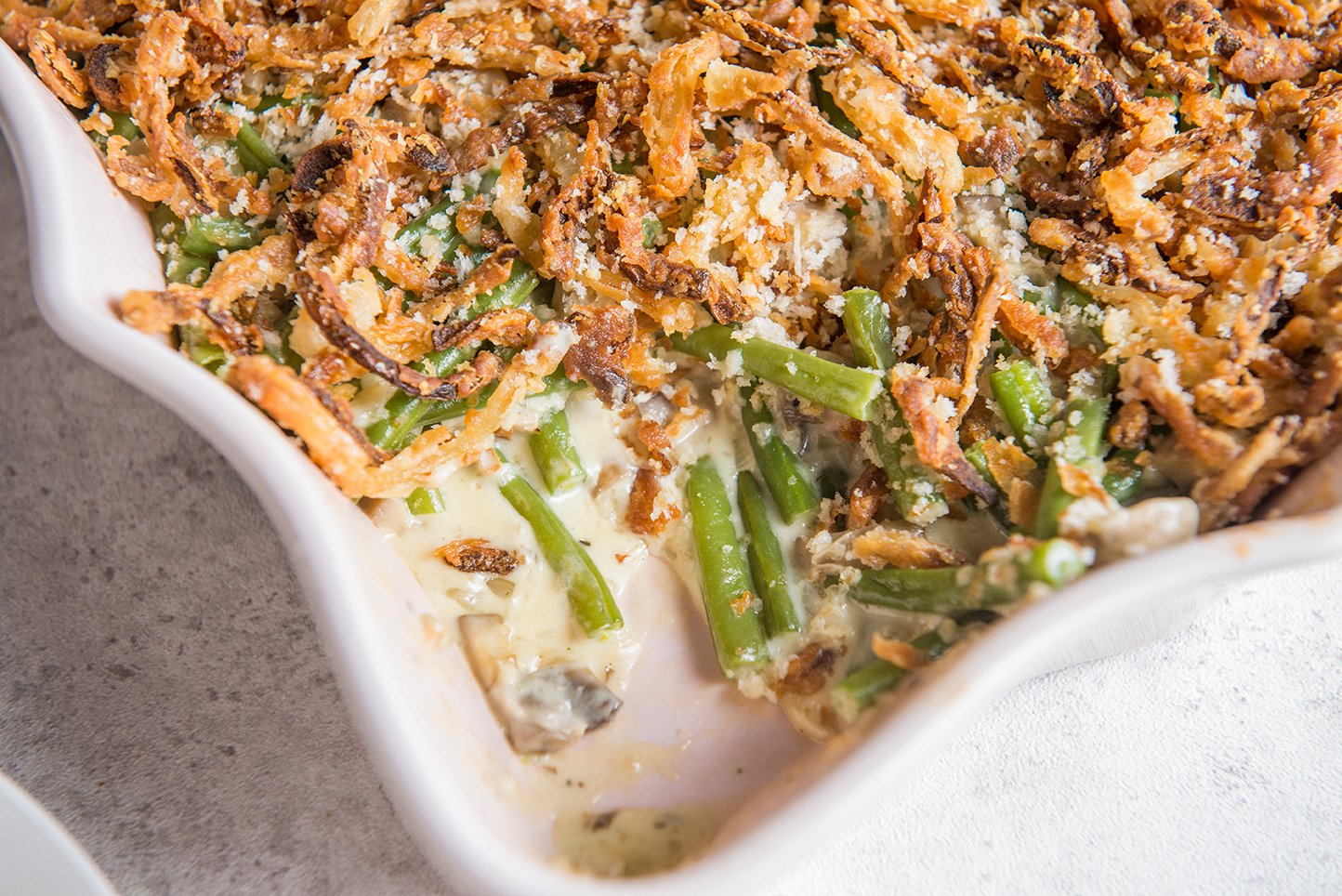 Green bean casserole was something my mom made us growing up even when it wasn't thanksgiving. In Finland it's really expensive to buy fresh Green Beans. I think I paid over $12 on Green Beans to make this casserole. You also can't find the can of French Fried Onions you can buy in America so I figured out how to make them and they were surprisingly way easy and unsurprisingly more delicious. Now my go-to green bean casserole is 100% homemade and that honestly makes me really happy. Living in Finland has made me learn how to make a lot of things from scratch I never had to learn before and I'm grateful for it.
Print
100% from-scratch Green Bean Casserole
Throw the canned soup away and make this delicious from-scratch alternative!
Prep Time:

15 minutes

Cook Time:

60 minutes

Total Time:

75 minutes

Yield:

6

-

8

side servings

1

x
French Fried Onions-
1 medium-large onion, sliced in half and then cut into very thin rings
¾ cup buttermilk
1 cup flour
¼ teaspoon salt, apx
Oil for frying, apx ½ cup
Green Beans Casserole-
¾ to 1 pound fresh green beans, ends trimmed and cut into 1–2 inch pieces
1 ½ tablespoons butter
½ pound white mushrooms cut into ½ inch pieces
1/3 cup onion, chopped small
2 cloves of garlic, minced
½ teaspoon salt
¼ tsp pepper
1/8 teaspoon dried thyme
1/8 teaspoon paprika
2 ½ tablespoons of flour
¾ cup chicken broth
½ cup heavy cream
½ cup milk
Topping-
French fried onions you made
¼ cup panko bread crumbs
Instructions
Preheat oven to 400 F. Spray a 9×9 or 10×10 baking dish with cooking spray and set aside.
Start the French-fried Onions-
In a medium bowl, pour buttermilk. Add in the thinly sliced onions and let sit while you prepare the rest of the casserole
For the casserole-
Place green beans and ½ cup water in a microwave-safe bowl. Cover with plastic wrap and microwave for about 8 minutes until beans are about halfway done, stirring halfway through microwaving (they will finish cooking in the oven). When beans are done in the microwave, drain water and set green beans to the side.
Melt butter in a large frying pan over medium heat and add the mushrooms, onions, garlic, salt, pepper, thyme, and paprika. Stir every few minutes and allow to cook for about 6-7 minutes until mushrooms are tender and most of the liquid is gone.
Sprinkle the flour over the mushrooms and stir for another minute. Add the chicken broth and stir till incorporated. Pour in the cream and milk and stir till a simmer. Reduce heat to medium low and simmer till sauce thickens. Add the green beans into the pan and stir to combine. Pour mixture into the prepared casserole dish.
Finnish the French-fried Onions-
In a medium frying pan pour oil until it measures roughly 1/4 an inch above the bottom and heat to medium to medium high.
Measure flour into a small bowl. In a colander, drain the buttermilk from the onions. Place half the onions into the flour and toss with a fork or with your fingers, coating all the onions. Once oil is heated, gently place onions into oil and fry, stirring frequently, until crispy and golden brown, about 5-6 minutes. Place fried onions onto a paper towel lined plate and sprinkle with salt. Repeat process with second half of the onions.
For Topping-
As soon as the onions are done frying and excess oil has soaked into the paper towel, place in a bowl. Sprinkle in bread crumbs and toss to combine.
Spread topping evenly over green beans and cover with foil. Bake for 20 minutes, remove foil and bake for another 10 minutes. Let sit for 5-10 minutes before serving.
Notes
Can be doubled for a 9×13 size baking dish.
This is also a great make-ahead dish. Make all parts to the casserole and assemble minus the topping. Refrigerate until baking. Keep topping in a plastic bag until ready to bake. Sprinkle topping on, cover with foil, place in pre-heated oven, and bake for 35 minutes. Remove foil and bake another 10 minutes.