Cajun Jambalaya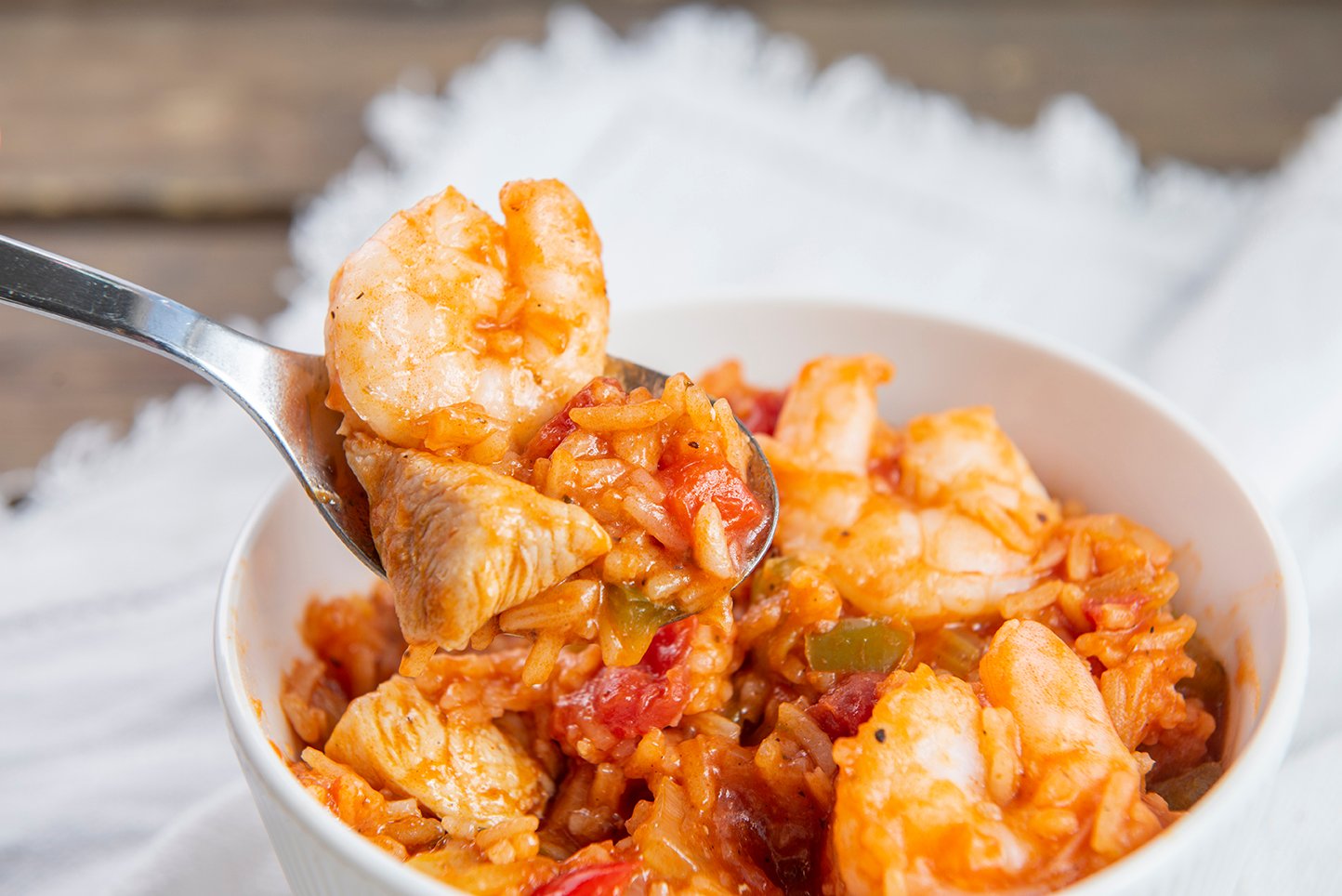 Cajun Jambalaya is a meal I grew up eating relatively often. It was always made from a box mix and that's how I always have made it too. But then there's no such thing as box mixes of basically anything in Finland and for sure no jambalaya. Which is ultimately great because it made me learn how to make it from scratch.
If you want to make any other cajun recipe try this other cajun comfort food read beans and rice.
Print
Cajun Jambalaya
A delicious 1-pot cajun jambalaya recipe full of delicious rice, meats, seasonings and veggies. A Louisiana comfort food.
Prep Time:

15 minutes

Cook Time:

35 minutes

Total Time:

50 minutes

Yield: serves about

8

1

x
3 tablespoons oil, divided
2 tablespoons Cajun seasoning, divided (Tony Chacheres is my favorite)
½-pound chicken, cut into bite-sized pieces
1 Red Bell pepper, diced
1 green Bell pepper, diced
1 small onion, diced
4 ribs celery, diced
10 oz andouille sausage, cut into rounds
1 teaspoon celery salt
1/2 teaspoon pepper
1/2 teaspoon thyme
1 teaspoon dried oregano
1/4 teaspoon onion powder
1/4 teaspoon garlic powder
1/2 teaspoon paprika
1/8 teaspoon cayenne pepper
4 cloves garlic, minced
2 tablespoon tomato paste
14 oz can crushed tomatoes
1 tablespoon red wine vinegar
2 teaspoons Worcestershire sauce
4 cups low sodium chicken broth
2 cups uncooked long grain rice, rinsed well
1-pound raw shrimp, cleaned and peeled
Instructions
In a large pot or dutch oven, heat 1 tablespoon oil over medium high heat. Add the chicken and sprinkle with 1 tablespoon cajun seasoning. Stir frequently till chicken is cooked through. Remove chicken to a bowl or plate.
Pour the remaining oil in the pot and heat over medium heat. Add in the bell peppers, onions, and celery, and andouille sausage. and stir. After about 1-2 minutes add in the celery salt, pepper, thyme, oregano, onion powder, garlic powder, paprika, and cayenne pepper. Stir frequently for about 4 minutes till veggies are soft.
Add in the garlic and continue cooking for about 30 seconds before adding in the tomato paste. Stir till combined.
Pour the crushed tomatoes, red wine vinegar, Worcestershire sauce, chicken broth and uncooked rice and stir. Continue heating till mixture comes to a boil. Reduce heat to a simmer and cover pot with a lid. Cook till rice is tender. Add the raw shrimp and previously cooked chicken in and mix to cover the shrimp and re-cover with the lid, cooking for about 5 minutes till shrimp are cooked through.
Remove from heat and let sit for 5-10 minutes before serving.
Garnish with green onions, if desired.
Notes
This yields a decently spicy jambalaya. If you want to make it less spicy, half the cajun seasoning and don't put any cayenne pepper in.
Keywords: cajun, creole, rice, comfort food, sausage, chicken, spicy, jambalaya, louisiana