Caramel Apple Crumble Fruit Pizza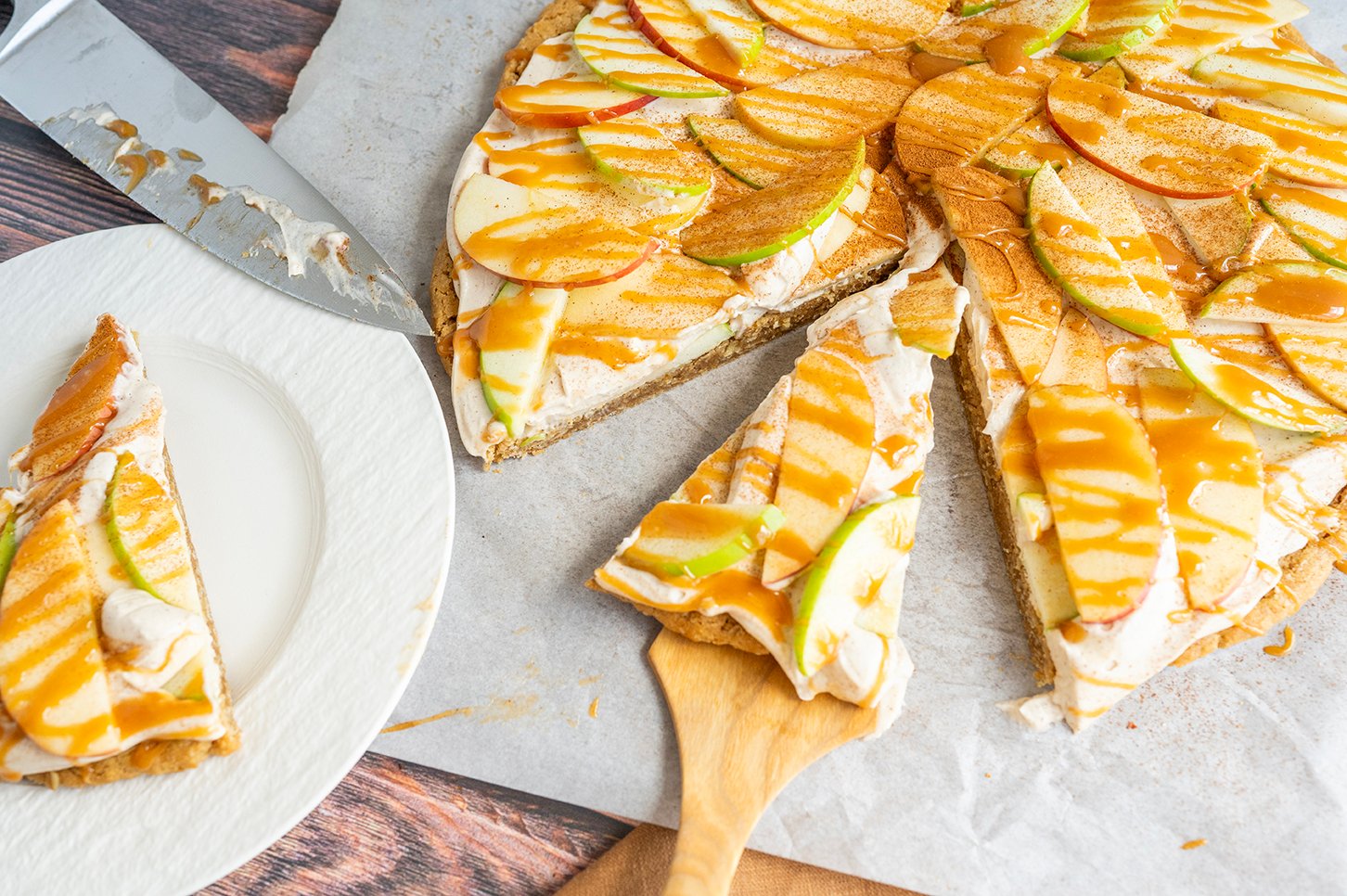 The only fruit pizza I've ever had is the sugar cookie base with assorted fruit on top. This is the same idea but inspired by a caramel apple/apple crumble. The base is a peanut butter oatmeal cookie, the middle layer is a cinnamon cream cheese whipped cream and it's topped with thinly sliced apples with a caramel drizzle. It is so delicious and fun to put together!
Print
Caramel Apple Crumble Fruit Pizza
Delicious oatmeal peanut butter cookie with a creamy middle, topped with thin apple slices and a caramel drizzle.
Prep Time:

15 minutes

Cook Time:

15 minutes

Total Time:

30 minutes

Yield: serves about

10

-

12

1

x
Cookie-
1/2 cup butter
1/2 cup peanut butter
3/4 cup sugar
6 tablespoons brown sugar
1 teaspoon vanilla extract
1 egg
1 1/4 cup old fashioned oats
1 cup flour
1/2 teaspoon baking soda
1/4 teaspoon salt
1/2 teaspoon cinnamon
Middle layer-
8 oz cream cheese, softened
1/4 cup brown sugar
1 teaspoon vanilla
1 teaspoon cinnamon
1 cup heavy whipping cream
1/2 cup powdered sugar
Topping-
About 2 medium cold apples (I used one green apple and one pink apple because they make the top prettier)
Cinnamon for dusting
Caramel sauce for drizzling
Instructions
Cookie-
In the bowl of a stand mixer fitted with a cookie paddle cream together the butter, peanut butter, sugar, and brown sugar.
Add in the eggs and vanilla extract and mix to combine.
Add in the oats, flour, baking soda, and salt all at the same time and mix just until combined.
Place cookie dough in fridge for about 30-60 minutes. Tear off 2-large pieces of parchment paper. Place piece on the counter and pour all the cookie dough on it. Do your best to shape the dough into a ball. Place the other piece of parchment on top of the large dough ball and use a rolling pin to roll it into a roughly 12-inch circle. Or alternatively you can roll this into a rectangle if you'd prefer to cook it on a baking sheet rather than a pizza pan/stone. I'd definitely suggest refrigerating this about 30 minutes longer after rolled to prevent the cookie from spreading so much when it's baked. Preheat oven to 350 F.
At this point while the rolled dough is chilling more.
Remove the top parchment paper and place the bottom parchment paper on a cookie sheet or pizza pan and bake for about 15-18 minutes. Every oven is slightly different. You want the edges to looked set and starting to brown but the middle will still look undercooked. Let cool completely.
I put mine in the fridge to get cold before frosting it.
Middle layer-
Whip the whipped cream into stiff peaks and set aside. In another bowl beat together the cream cheese, vanilla, powdered sugar, cinnamon, and brown sugar till creamy. Gently fold the whipped cream into the cream cheese mixture till combined. *see note.
Assembly-
With a flat edge spatula or even a rubber scraper frost the cookie with the cream cheese whipped cream. Layer the top with thinly sliced apples and gently dust with cinnamon and drizzle with caramel sauce.
Refrigerate till serving. This dessert is definitely best eaten within 24 hours of being assembled.
Notes
This makes a decent amount of the middle frosting layer. If you don't want such a thick middle layer, you can save some of this to use as a delicious fruit dip.
If you aren't serving this immediately after assembling then I'd suggest dipping each apple slice in a bowl of really cold water with some lemon juice or apple cider vinegar mixed into it to prevent browning. Blot each apple slice with a paper towel or kitchen towel to dry once removed from the water.
Keywords: apple, fruit pizza, giant cookie, apple pie, caramel apple, apple cinnamon, dessert, fall, easy dessert