Slow Cooker Parmesan Garlic Pasta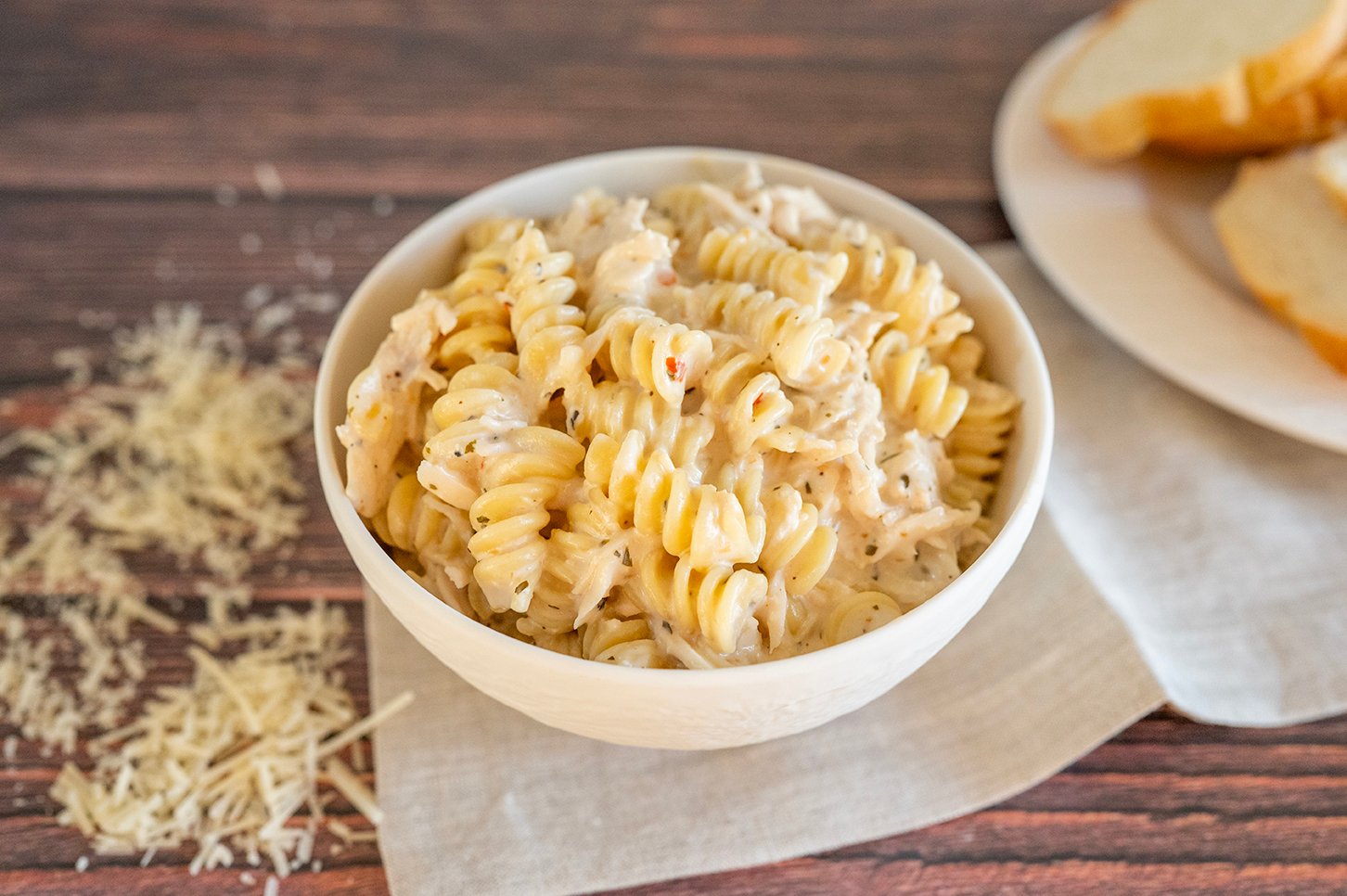 I was lucky enough to go visit my best friend who lives in Texas a few weeks ago. She is QUEEN of simple meals. She made this dinner while we were there and I loved it so much I made it for my family the next week. I think this may be the first recipe on my blog that requires something as specific as "Buffalo Wild Wings Parmesan Garlic Sauce" but it's also only a 5 ingredient meal. You can't buy anything like this sauce in Finland so obviously when I was blogging from abroad I'd never have anything like this on my blog. That being said, it is SO weird being back in a place where 100% of the meals I make aren't 100% from scratch. It's both convenient but also I really hope a vast majority of my recipes and food I make my family can continue to be from scratch. Also, my kids hate like 75% (or more even) of the pre made or quick American dinners I've made. They've not grown up with them so even something as simple as a box of mac and cheese 2 of them don't like! I'm literally like, "try this delicious junk food!" and they think most of it is so gross. I hope they never learn to like it,  honestly. What a blessing that'd be for them!
Print
Slow Cooker Parmesan Garlic Pasta
Delicious and flavorful creamy garlic pasta with just 5 ingredients that takes less than 10 minutes of active prep time.
Prep Time:

10 minutes

Cook Time:

6 hours inactive

Total Time:

6 hours 10 minutes

Yield:

serves at least 8
1, 8oz block of cream cheese
1, 12 oz bottle of parmesan garlic sauce (Buffalo Wild Wings)
1 1/2 cup milk *see note
6 oz real parmesan cheese, grated
3–4 chicken breasts, fresh or frozen *see note
1 pound of pasta, any shape
Instructions
Dump all ingredients into a slow cooker except the pasta and cook on low for about 6-8 hours. Shred the chicken once cooked. Cook your pasta to al dente and pour into slow cooker and stir to coat. Serve.
This warms up just fine as leftovers as well.
Notes
The easiest way to measure the milk in this recipe is to simply just pour it into the parmesan garlic sauce to the top. Then dump half the milk into the slow cooker, put the lid back on the bottle and shake the remaining milk in the bottle to get more of the sauce out.
If you use fresh chicken breasts this recipe will cook faster.
This is a slightly spicy pasta.
You can definitely leave the chicken out if you want a vegetarian meal.
Keywords: pasta, dump and go, crockpot, slow cooker, parmesan, 5 ingredient