Dark Chocolate Cream Pie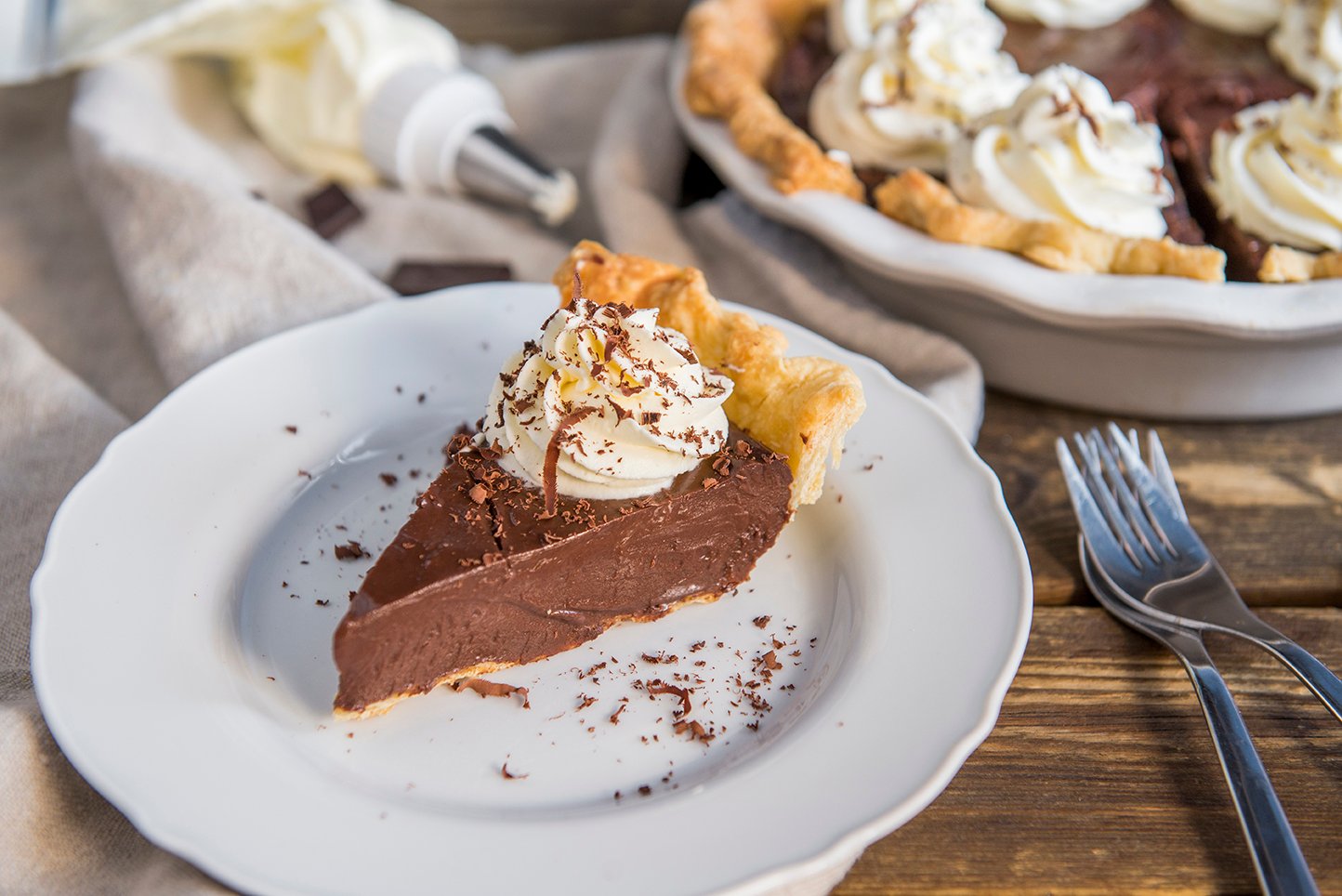 Dark chocolate cream pie is one of my all-time favorite pies. It's luxuriously creamy, rich, and chocolate-y. I've never met someone who doesn't like this pie. Unless you don't like chocolate in which case I don't think you'd like this. I highly recommend making a little batch of whipped cream to put on top of this pie, but if you don't want to add the calories, then it's delicious without too. But, I mean, if you're eating this pie, you're probably not counting calories for the day anyway….?
2020 has been a hard year, eat the pie. I think if I was running for president that would be my slogan. Would you vote for me if I promised to make pie calories not count? Back to the pie, It is easy to whip up but the result will taste like you slaved on it.
If you're looking for another delicious chocolate pie, check out my chocolate french silk pie.
Print
Dark Chocolate Cream Pie
Luxuriously rich, creamy, and choclate-y. You deserve this pie; 2020 has been rough. Besides baking the pie shell there's no baking needed for this time. Easy to whip up but the result will taste like you slaved on it.
Prep Time:

15 minutes (plus 3 hours fridge time)

Total Time:

15 minutes

Yield:

1

9-inch pie

1

x
3/4 cup roughly chopped dark chocolate (4 oz, 115 g that is about 72% dark or more)
2 teaspoons vanilla extract
1 1/3 cups sugar (270 g)
1/2 teaspoon salt
1/2 cup (45g) sifted Dutch process cocoa powder
1/3 cup cornstarch (35 g)
8 large egg yolk
3 cups milk, 1% or 2% or whole (680 g)
1 9-inch blind baked pie shell (or a cookie crust would work too)
1–2 cups whipped cream, if desired
Instructions
Place chopped chocolate in a medium bowl and add vanilla extract. Set aside.
In a medium saucepan add the sugar, salt, cocoa powder, and cornstarch.
In a separate small bowl, combine the egg yolks and milk and whisk to combine.
Pour egg/milk mixture into the cocoa powder mixture and whisk to combine. Set over medium low heat, whisking gently till the mixture is hot to the touch, about 6-7 minutes.
Increase heat to medium and whisk till the mixture starts to bubble and gets thick, about 5-6 more minutes. Once you see the first bubble, set timer for 90 seconds and whisk vigorously. Remove from heat and immediately pour mixture over the chopped chocolate and vanilla and stir with a spoon till all the chocolate is melted and smooth.
Pour into blind baked pie shell and let cool for 15 minutes before covering with plastic wrap and putting into the fridge. Refrigerate at least 3-4 hours before serving.
Top with whipped cream, if desired, right before serving.
Notes
Make sure to whisk the whole time your filling is on the heat so you don't get scrambled eggs in your mix.
Can be made 2-3 days ahead of serving. Don't put any whipped cream on till right before serving.