Fruit Pizza Cookies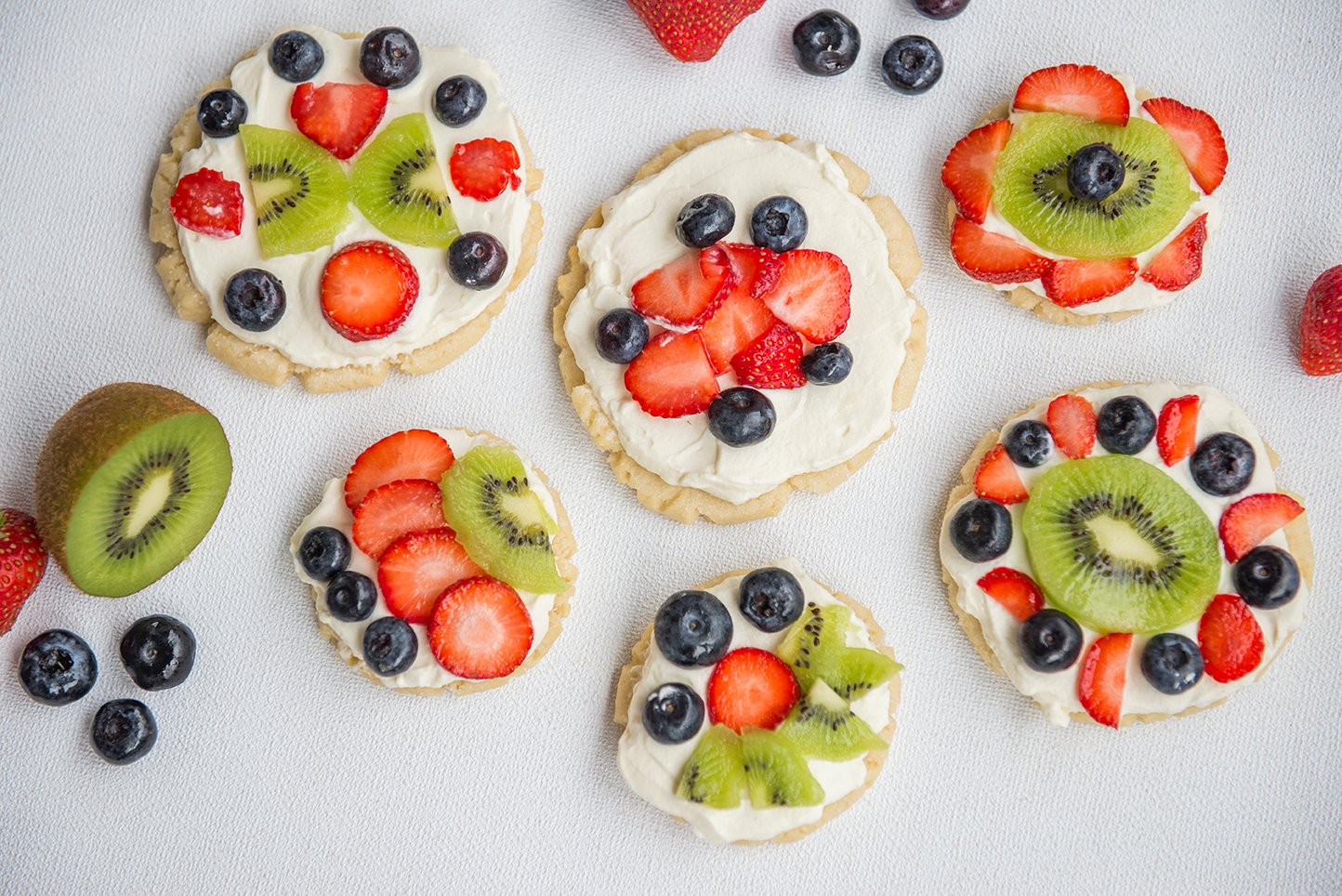 Fruit pizza cookies are a play on a childhood favorite– fruit pizza. My siblings and I would sometimes request fruit pizza for our birthday dessert instead of cake. Now, I would never choose anything besides a super dark and rich chocolate cake, but these are still amazing! My mom would always make fruit pizza with a roll of Pillsbury sugar cookie dough from the grocery store and make the frosting with Cool Whip and cream cheese. But Neither of those exist in Finland which is great because It made me have to make up my own totally from scratch recipe. If you like soft sugar cookies make sure to also try this lemon sugar cookie and my original soft sugar cookie.
Print
Fruit Pizza Cookies
Totally from scratch individual fruit pizzas. Super soft sugar cookie with a delicious and creamy whipped cream cheese frosting and topped with your choice of fruits! Fun for kids to decorate themselves and perfect for using the fresh summer fruit you have on hand!
Prep Time:

20 minutes

Cook Time:

9 minutes

Total Time:

29 minutes

Yield: about

2

dozen

1

x
Cookies-
1 cup butter, softened
¾ cup oil (vegetable, canola)
1 ¼ cup granulated sugar (9.25 oz)
¾ cup powdered sugar (3 oz)
½ teaspoon baking soda
½ teaspoon cream of tartar
½ teaspoon salt
2 ½ tablespoons sour cream
2 large eggs, room temp
2 teaspoons vanilla
5 ¾ cup flour (29.5 oz)
About ½ cup granulated sugar for pressing the cookies
Frosting-
6 oz cream cheese
1 ¾ cup heavy whipping cream
¾ teaspoon vanilla extract
¾ cup powdered sugar, sifted
Chopped fruit for topping- strawberries, berries, grapes, kiwi, mandarin oranges, etc
Instructions
Cookies-
Preheat oven to 350 F. Line 2 rimmed baking sheets with parchment paper and set aside.
In the bowl of a stand mixer fitted with a paddle, mix together the butter, oil, sugars, baking soda, cream of tartar, and salt. Mix till very creamy, about 2-3 minutes. Scrape down the side of the bowl at least 2 times during this process.
Add the sour cream, eggs, and vanilla and mix another minute or 2, till well combined. Scrape the sides down as needed.
Pour the flour into bowl and mix on low till flour is incorporated and then mix on medium speed till well combined, scraping down the sides as needed. Dough will be soft. You don't want the dough to be a normal sugar cookie consistency or these cookies won't end up soft.
Pour about ½ cup of sugar in a small bowl.
Roll dough into balls *see note* and place a few inches apart on prepare rimmed baking sheet.
Using the bottom of a glass cup, twist the bottom of the glass in the bowl of cookie dough to get the glass a bit greasy and then dip it in the sugar. Press the bottom of the glass into a ball of dough on the cookie sheet till cookie flattens to about ½ inch and maybe gets a few crackles around the edges. Dip glass in sugar between each press of a dough ball (no need to re-twist in the bowl of cookie dough) until the whole tray is pressed.
Bake for about 8-10 minutes for large/normal size cookies or about 7 for a smaller one. Try to take them out right before the edges would start to brown or they will be too dry and not soft. They may look undercooked in the middle at first.
Let rest on baking sheet for about 3 minutes before transferring to a cooling rack.
Frosting-
In a bowl of a stand mixer fitted with a whisk attachment (or in a mixing bowl with an electric mixer) whip the cream cheese till creamy. Add the whipping cream and vanilla extract and whip till soft peaks. Add the sifted powdered sugar and whip till stiff peaks.
Notes
Weigh your flour if you at all can. If you don't have a kitchen scale you can buy one here (aff. link) or make sure you fluff your flour well before measuring and use a light hand when measuring to make sure you don't put too much flour in.
If you have room in your fridge or freezer you can put the bowl you're using in it to chill before making the whipped cream cheese frosting to help it whip even faster.
This frosting won't wilt on you like a normal plain whipped cream and is thick enough that you can pipe with it.
Make sure you refrigerate.
Keywords: Fruit Pizza Cookies