The Best Coconut Cream Pie (with Coconut Crust! And gluten free)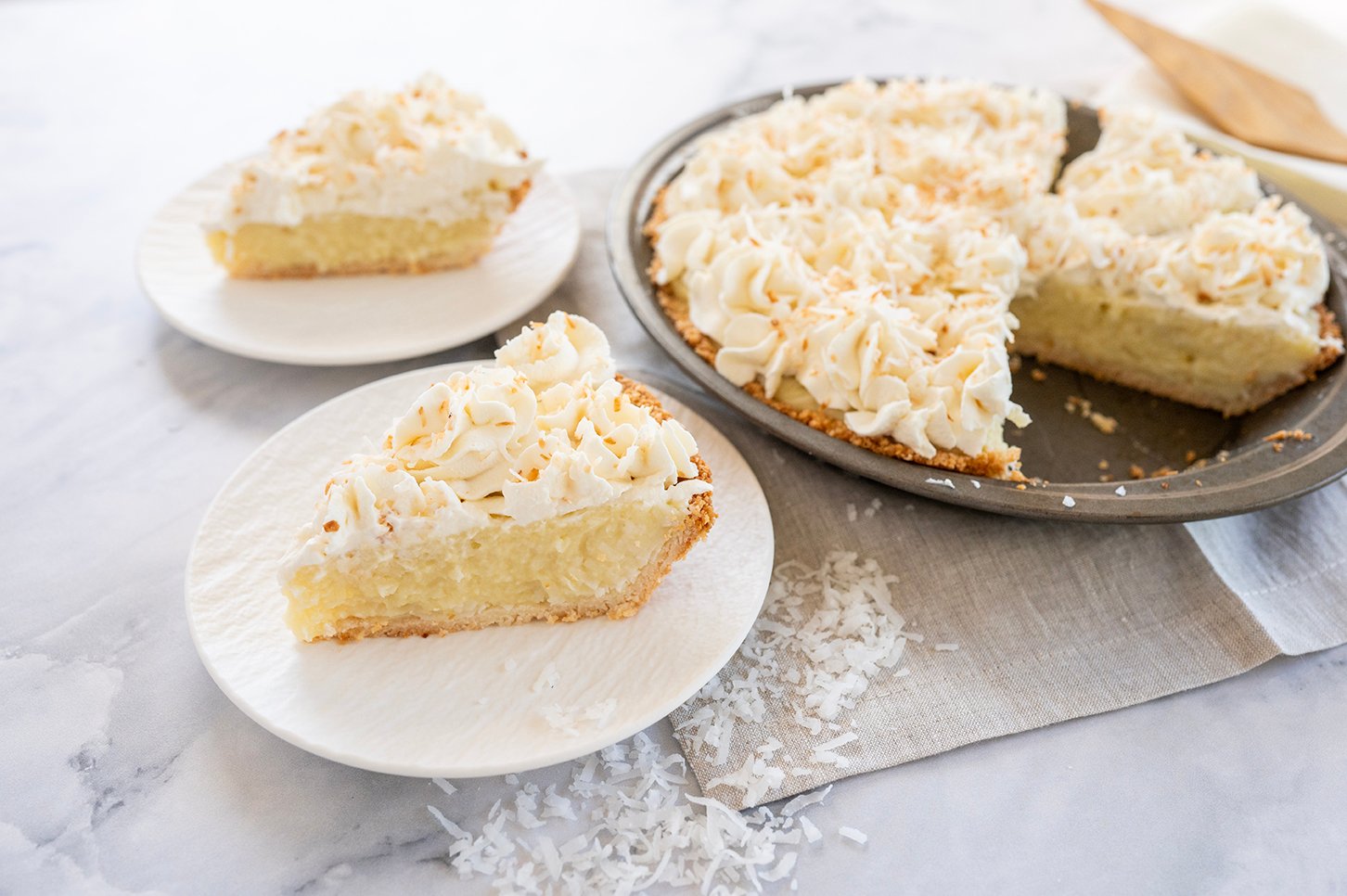 I really love coconut. And I really love coconut cream pie. I made this pie crust not sure if it'd even work or taste good or hold together when cut and IT DID and it is AMAZING! You could for sure make just the pie crust and use it for a different cream pie if you don't want to use it for coconut cream pie too. Like a key lime pie would be delicious or this dark chocolate cream pie. I'm 90% sure this will make an appearance on my Thanksgiving dessert table this year. I brought this pie last weekend to a church activity and I have honestly never gotten more rave reviews before. You're going to love it.
Print
The Best Coconut Cream Pie (with Coconut Crust!)
This coconut cream pie is AMAZING, the secret is the coconut crust! You won't regret this recipe.
Prep Time:

20 minutes

Cook Time:

20 minutes

Total Time:

20 minutes plus refrigeration time

Yield:

1

, 9-inch pie

1

x
Crust-
2 1/2 cups unsweetened coconut
5 tablespoons butter, melted
Filling-
4 large egg yolks
4 tablespoons cornstarch
1 14 oz can full fat coconut milk
1 cup cream
2/3 cup sugar
1/4 teaspoon salt
2 tablespoons butter
1 teaspoon vanilla extract
1/2 teaspoon coconut extract
1 cup sweetened shredded coconut
Topping-
2.5 cups heavy cream
3 tablespoons powdered sugar
¼ teaspoon vanilla extract
A few tablespoons of toasted coconut flakes for garnish, optional
Instructions
Crust-
Preheat oven to 350 F. In a food processor combine the unsweetened coconut and melted butter in a food processor and pulse till the coconut is fine and the mixture becomes almost like a dough that you can squish together. You'll still be able to see the flakes, they'll just be really small.
Pour the coconut mixture into a 9-inch pie plate and press evenly on the bottom and up the sides.
Bake for about 3 minutes and cover with a pie shield so the sides don't bur. Bake in total around 10 minutes. You want the bottom to just be starting to turn golden but not dark or totally at all or it'll be too crispy when you cut it.
Remove from oven and let cool completely before starting the filling.
Filling-
In a small mixing bowl whisk together the egg yolks and cornstarch. It will be thick. Set aside.
In a medium sauce pan over medium heat combine the coconut milk, cream, sugar, and salt, whisking frequently. Once it boils, reduce heat to medium low, set a timer for 2 minutes, and whisk continuously.
Take about ½-2/3 cup from the milk mixture and slowly, while whisking continuously, pour the hot milk into the egg yolks mixture. You want to add the milk slowly so it doesn't turn your eggs into scrambled eggs.
Once all the hot liquid is mixed into the eggs, slowly pour your new egg mixture into the milk mixture on the stove, whisking continuously. It will get thick and bubbly very fast, be careful as you whisk. Whisk for about 90 seconds.
Remove from heat and add the butter, vanilla, and coconut extract. Once all of that is evenly incorporated, add the shredded coconut and stir till combined.
Pour into completely cooled pie shell and cover with plastic wrap with the plastic completely touching the top of the pie so it doesn't form a dry film on top. The plastic wrap will easily come off the top when removed, don't worry. Refrigerate till cold, at least a few hours. Lasts several days in the fridge.
Topping-
Right before serving, or up to a few hours before, make the whipped cream for the top. Using a hand mixer or in a stand mixer bowl, combine the whipped cream, powdered sugar, and vanilla and whip till medium peaks. Pipe or spoon the whipped cream over the cold pie and dust with toasted coconut flakes, if desired.
Notes
You can use a normal dough pie shell instead of the coconut pie shell. Follow the directions for blind baking your shell and let completely cool before starting the filling.
I definitely would recommend unsweetened coconut for the shell. The sugar in the sweetened kind will make your crust burn very fast in the oven. I'm sure it's possible to make it with sweetened, but you'll definitely want to not take your eyes off the crust while you bake it.
The coconut pie shell should hold together and not break as you cut into it as long as you haven't over baked it. You can use this shell for other cream pies too as long as they are refrigerated pies. It would be delicious for a key lime pie or chocolate cream pie.
Keywords: coconut, pie, coconut cream pie, shredded coconut, coconut crust, thanksgiving, pie, dessert, gluten free